An unsurpassed list of adventures to be had in Aspen, Colorado keeps thrill-seekers coming back time and time again. From hiking through high-alpine fields dotted with purple columbines or lupines to exploring world-class biking trails and enjoying a sunset outdoor concert with mountain views, Aspen is one of North America's best summer mountain destinations. The clean, crisp air of Aspen will rejuvenate the soul and heighten the senses. Adults, families, kids and couples are never at a loss for things to do in the beautiful town of Aspen, Colorado.
Biking | Hiking | 14ers | Gondola rides | Fly fishing | Paragliding | Whitewater rafting | Horseback riding | Golf
Biking in Aspen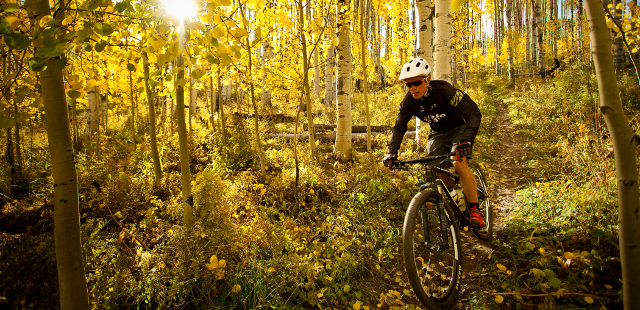 A distinguished biking town, Aspen has an array of trails, routes and rides for every level and type of biker. Those who want to cruise around and snap some pictures will enjoy a guided, 12-mile downhill, paved cruiser ride from the legendary 14,000-foot Maroon Bells down through the Maroon Creek Valley.
Road cyclists can make their way to iconic Aspen sites like the Ashcroft Ghost Town or the Maroon Bells.
Mountain bikers can start their ride right from downtown Aspen to access the vast Hunter Creek trail system, Buttermilk's Tiehack trails, Sky Mountain Park or explore Snowmass' lift-served bike park.
Hiking in Aspen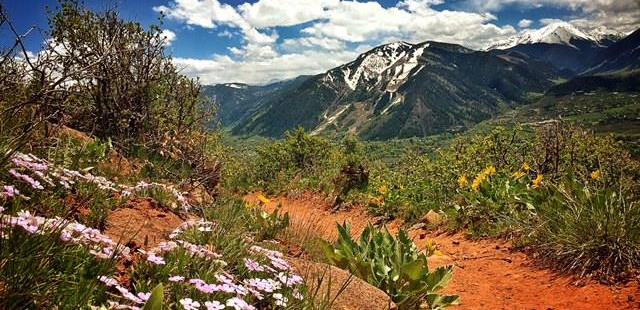 Aspen's Elk Mountains are among Colorado's most beautiful. The Maroon Bells, Pyramid Peak and the many other 14,000-foot (14er) peaks provide incredible backdrops for some of the world's best hiking. Picture yourself exploring alpine meadows choked with gorgeous Colorado wildflowers and set to a snow-capped vista in the background. Here are some of Aspen's top hikes:
Easy Aspen hiking trails
Rio Grande Trail – Utilized for riverside running, walking and commuter biking, Rio Grande begins directly behind the Post Office on Puppy Smith Road in downtown Aspen and continues for more than 40 miles to Glenwood Springs. The first two miles of the trail are paved and then it becomes a dirt trail after crossing Cemetery Lane.
Weller Lake – This Independence Pass hike is a popular area for afternoon picnics and exploring waterfalls. While there, spend time in The Grottos area and check out all the interesting rock formations, ice caves and numerous short trails. Just a little more than a mile roundtrip, Weller Lake is a great hike for families.
Hunter Creek – The trail begins just east of the apartments on Lone Pine Road or directly off the Rio Grande Trail extension, which was completed in 2013. Hunter Creek can be enjoyed as a two-mile jaunt or a 13-mile, full-day hike. To make the trail even easier, start from the upper access trailhead atop Red Mountain Road. Upper portions of the trail pass through alpine meadows scattered with several historical mining cabins.
Smuggler Mountain Road – This jeep road is one of the most popular recreation areas in the immediate Aspen vicinity. Any spring, summer or fall afternoon, Smuggler Mountain Road is busy with Aspenites hiking, running, mountain biking or walking their dogs. Smuggler Road provides a 1.5-mile uphill workout with great views of downtown Aspen and the surrounding 14er peaks from the look-out point. From the trail map signage, you can access the Hunter Creek Trail, BTS, Tootsie Roll and Lollipop trails or continue climbing to Warren Lakes.
Moderate hikes near Aspen
Ute Trail – Starting from Ute Avenue in Aspen's East End, the trail climbs uphill steeply with switchbacks for 0.9 miles and 1,000 vertical feet to a rock outcropping. The scenery of downtown Aspen from the summit is stunning.
Sunnyside Trail – Starting from Cemetery Lane, Sunnyside trail begins with a series of switchbacks through scrub oak, sagebrush and aqueducts. After one mile, you will cross a driveway and then continue on to Red Mountain. The trail finally joins with the Hunter Creek Trail in the Hunter Creek Valley. You can turn around wherever you like, but the full round-trip route is 12.6 miles and features about 2,000 vertical feet of gain.
Grizzly Lake – Accessed via Lincoln Creek Road, which is off of Highway 82 heading east to Independence Pass, the high-alpine, glacial Grizzly Lake is a great place to enjoy wildflowers. Mountain goats are often seen in this area, too. The moderate hike is 3.6 miles (one way) in length and features an elevation gain of about 2,000 feet. The last .25 miles challenges hikers with grunt-worthy switchbacks.
Difficult Aspen hiking trails
Lost Man Trail – Located on the Aspen side of Independence pass, Lost Man can be experienced as a shuttled, one-way hike (8.9 miles) or out and back. The full route features 2,300 feet of vertical gain.
Midway Trail – Starting from the Lost Man trailhead on Independence Pass, Midway Trail connects with the Hunter Creek Trail, which will take you back to Aspen, 20 miles and 2,000 feet of gain later. A topographical map is mandatory!
New York Trail – Situated off Lincoln Creek Road along Independence Pass, New York Trail is an 8.4-mile roundtrip hike featuring 2,300 feet of uphill gain. A topographical map is mandatory—it is easy to get lost.
14ers Near Aspen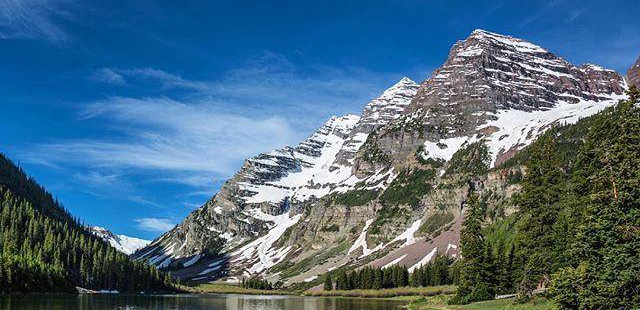 Situated among a collection of Colorado's highest peaks, Aspen is a major summertime hub for serious adventurers and amateur and professional photographers looking to experience 14,000-foot peaks. Colorado features 54 14er peaks and eight (including Mt. Elbert) are within striking distance from downtown Aspen. Here are some peaks to visit—or keep your eyes peeled for while hiking or biking in the area:
Castle Peak | 14,265'
Castle Peak is located In the Maroon Bells-Snowmass wilderness of the Elk Range, 6.4 miles southeast of Pyramid Peak and eight miles southeast of Maroon Peak and North Maroon Peak.
Maroon Bells | Maroon 14,156' + N. Maroon 14,014'
These famed sister peaks are located in the Maroon Bells-Snowmass Wilderness southwest of Aspen, more than five miles southeast of Snowmass Mountain and more than seven miles southeast of Capitol Peak.
Snowmass + Capitol Peak| Snowmass 14,092' + Capitol 14,130'
Snowmass and Capital Peak are situated in the Maroon Bells-Snowmass Wilderness of the Elk Range. Snowmass is four miles northwest of the Maroon Bells and Capitol is nearly six miles northwest of the Maroon Bells.
Conundrum Peak | 14,060'
Conundrum Peak is located less than .5 miles northwest of Castle Peak.
Pyramid Peak| 14,018'
Pyramid is in the Maroon Bells-Snowmass Wilderness southwest of Aspen, two miles east of The Maroon Bells and seven miles southeast of Snowmass Mountain.
Aspen Snowmass gondola rides
Aspen Mountain gondola rides
The Silver Queen Gondola at Aspen Mountain carries passengers more than 3,000 vertical feet from downtown Aspen to the top of the resort. Reaching an elevation of 11,212 feet, the summit of Aspen Mountain hosts spectacular panoramic views of the Elk Mountain Range. Dine at the Sundeck, hike or simply soak in the Rocky Mountain scenery.
Ride the Elk Camp Gondola and enjoy breathtaking views of Snowmass and the surrounding valley. This chairlift will bring you to mid-mountain Elk Camp lodge. You'll find great views, a disc golf course, a kid's playground and easy access to many trails for hiking and biking. Valhalla Nights on select Tuesday evenings is an Elk Camp experience not to be missed. The whole family will have a blast dancing to live music and enjoying great food from the lodge's restaurant. Parents can sip on a cool beverage on the patio in the fresh mountain air while the kids have a ball at the adjacent playground.
Aspen fly fishing
When it comes to fly fishing, Aspen is a top destination in the world. A huge variety of excellent fishing is all just a cast away. If you're staying in downtown Aspen or Snowmass you can enjoy incredible access to the Roaring Fork River headwaters, which is fed by Independence Pass' snowmelt. Downstream, on Highway 82, fly fishers can also test the waters of two Roaring Fork tributaries, the famous Fryingpan River, which meets the Roaring Fork in Basalt, and the Crystal River, which meets the Roaring Fork in Carbondale. The Colorado River runs through Glenwood Springs and also provides access to great fly fishing.
Paragliding in Aspen
Experience the feeling of soaring over the Elk Mountains just like the local birds on a tandem paragliding flight, which starts from the top of Aspen Mountain. After a couple running leaps, you and the certified guide are airborne, riding on the wind and enjoying views few others ever experience.
Whitewater rafting in Aspen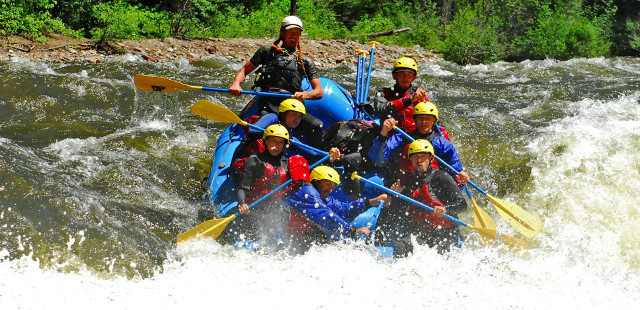 Aspen is one of the top 10 venues for whitewater rafting and kayaking in the whole country. There is nothing quite as exhilarating as rafting along the Roaring Fork River in the springtime. Experience pure adrenaline in May or June, when the river is high, or take it easy and enjoy a mellower experience later in the summer or fall. No matter which experience you choose, you'll be treated to beautiful Rocky Mountain scenery.
Guided trips to the nearby Colorado and Arkansas rivers are also possible on your Aspen summer vacation. These rivers are popular watersports venues and provide fun for all levels.
Horseback riding in Aspen
The idyllic summer and fall weather in Aspen, Colorado is best experienced on horseback! Meander through fields of columbine, forests of spruce or pine and aspen groves while you trod atop your four-legged trail companion. Horseback riding in Aspen, Colorado is a favorite summer activity for those who want to soak in the warm sun and spectacular views at a slower pace.
Golf in Aspen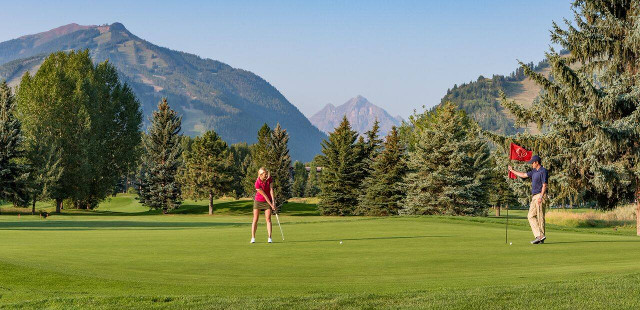 Rated the No. 1 Best U.S. Municipal Golf Course in Colorado by Golfweek Magazine three years in a row, the Aspen Golf Club provides golfers with a challenging, picturesque 18-hole course. Situated on the outskirts of downtown Aspen along Highway 82, the Aspen Golf Club is easy to get to no matter where you're staying on your Aspen summer vacation.